John Wiley
has been named the next defensive coordinator at
Western Carolina
by head football coach,
Mark Speir
. Wiley has over 30 years of coaching experience at a variety of levels to the Catamount football program. Coach Speir worked with Wiley at App State from 2003-09.
"I am extremely pleased that John Wiley has accepted our defensive coordinator position," said Speir of his longtime colleague. "John is an experienced coach and a proven winner. We coached together at Appalachian State where John led our defense and was a part of that staff that won three national championships and six Southern Conference titles. He also brings over 20 years of experience in recruiting North Carolina to the position."
Speir added, "It is always comforting to hire a guy you have worked with and trust. John will move in from day one and understand our vision and the expectations for this Catamount football program. He will be a great representative for Western Carolina University."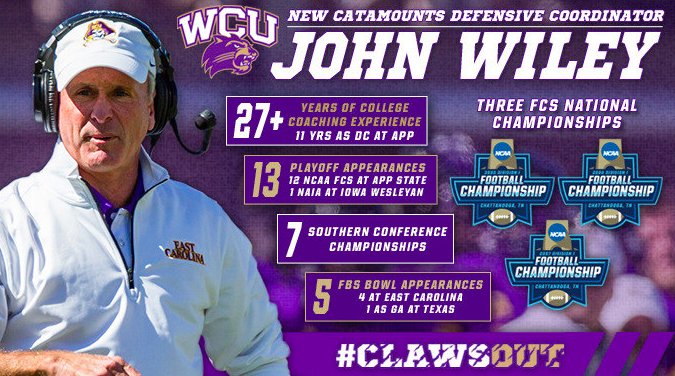 Courtesy WCU Athletics Media Relations