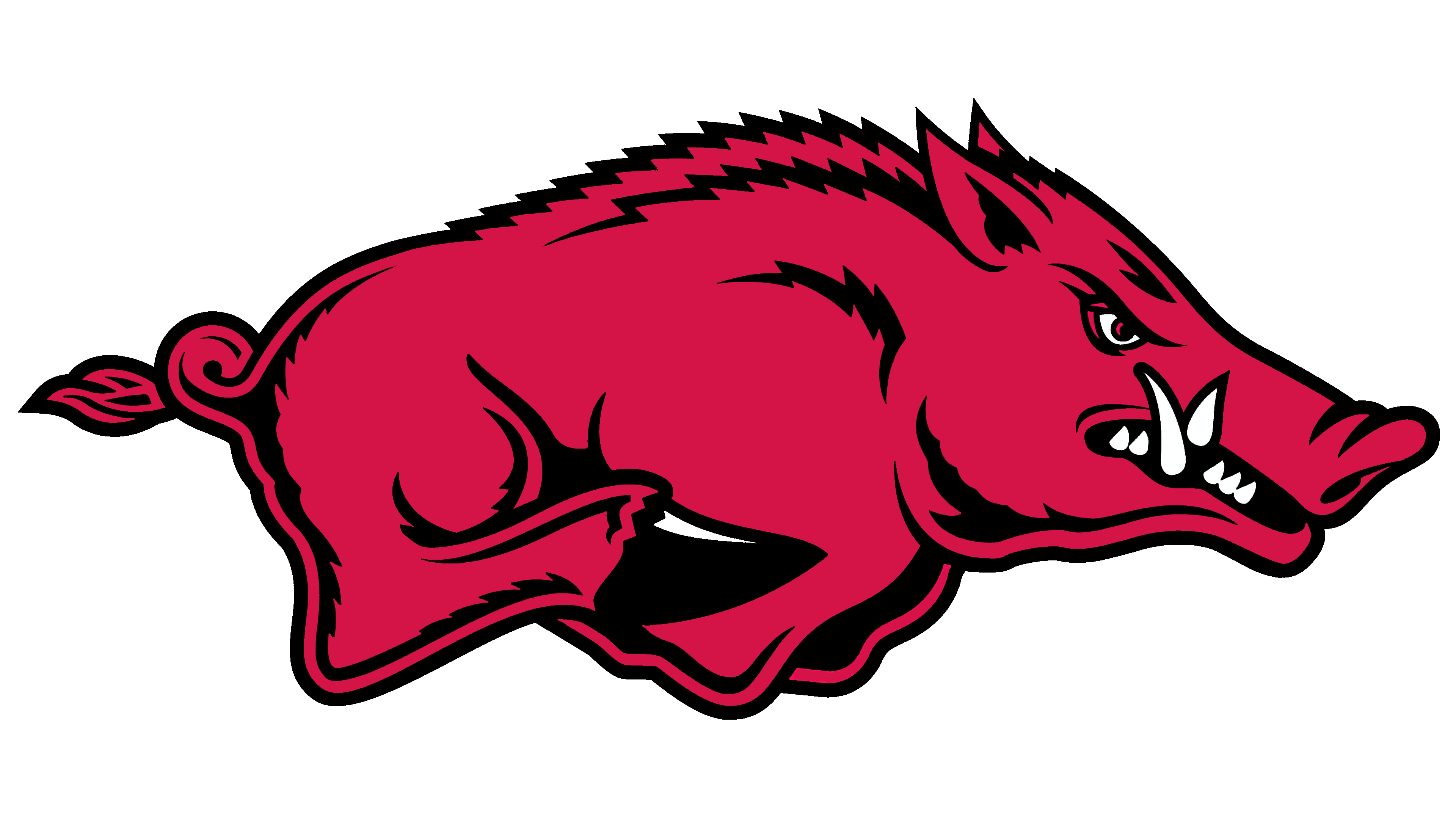 In the 2023 season opener, the Catamounts travel to the War Memorial Stadium in Little Rock, Arkansas to face the Arkansas Razorbacks of the Southeast Conference (SEC) in the first meeting on the gridiron between the two schools.
The
Razorbacks
finished the 2022 season in fifth place in the West Division of the
SEC
with a 7-6 overall record.
Game #1 - at Arkansas Razorbacks
When: Saturday, September 2, 2023
TV/video
:
SECN+ / ESPN+
-Play-by-Play - Dave O'Brien (play-by-play), Dan Mullen (analyst)
Conference: Southeastern Conference (SEC)
Enrollment: 29,608
Nickname: Razorbacks
Colors: Cardinal and White
The Series
: This will be the first meeting between the two trams on the gridiron.



Head Coach

:

Sam Pittman

- Sam Pittman, was named the 34th head coach in Razorback history prior to the 2020 season and has led one of the most remarkable program turnarounds in college football over the last three years.
Pittman's Record at Arkansas: 19-17 overall (3 seasons), and 10-16 SEC
Pittman's record vs. Western Carolina: 0-0
Kerwin Bell's record vs. Arkansan: 0-0

Last Season's Record - (Arkansas 2022): 7-6 overall, 4-3 home, 2-2 away, 1-1 neutral, 3-5 SEC
Letter Winners - Returning/Lost Total: 37 / 33
Defense: 18 / 18
Starters Offense
(returning/lost)
: 4 / 7
Starters Defense (returning/lost): 7 / 4
The Razorbacks were picked to finish fifth in the 2023 SEC preseason poll, with
RB - Raheim Sanders named to first team all conference, and
QB - KJ Jefferson,
OL - Brady Latham, &
DB - Dwight McGlothern selected for second team honors.
This season, expectations are high for the Razorbacks, with quarterback KJ Jefferson leading the way as one of the better players in the SEC. T
he Razorbacks coming off a 7-6 season in 2022, and new coordinators Dan Enos (offense) and Travis Williams (defense) joining the team has HC Sam Pittman all smiles going into the first game of the season, facing Western Carolina.
After three years with former offensive coordinator Kendal Briles running the offense, Pittman has a new face calling plays for 2023. Dan Enos was hired and this is the second time he's filled the shoes of offensive coordinator for the Razorbacks. Enos came to Arkansas after spending the two previous years as Maryland's OC, and he was the Razorbacks' OC from 2015-17.

Quarterback KJ Jefferson and RB Raheim Sanders are still around, Sanders ran for 1,443 yards and ten touchdowns last season, and Jefferson is one of the toughest running quarterbacks in the SEC. He was injured and missed a few games last season, but he still hit 68% of his throws for close to 2,700 yards and 24 touchdowns, and five picks, and he also ran for 640 yards and nine scores.

Arkansas can probably match backfields with most of nation's best, along with Sanders are AJ Green, Rashod Dubinion and a rehabbing Dominique Johnson.



On Defense, last season they gave up over 30 points per game, and losing linebackers Drew Sanders and Bumper Pool hurts, but there's a good group of sophomores - particularly Chris Paul Jr. - ready to fill in the gaps. Up front, tackle Taurean Carter returns from injury to pair with Cameron Ball and combo man Eric Gregory, along with ends Jashaud Stewart and Zach Williams. They're joined by transfers Trajan Jeffcoat, Anthony Booker, and John Morgan III.
Returning defensive backs Malik Chavis, Hudson Clark and Jayden Johnson will be helped by transfer Alfahiym Walcott, who missed spring with a knee injury.
2022 Arkansas Statistics (13 games)
Rushing Offense: 2961 yards
Yards per game: 227.8
Yards per rush: 5 yards
Rushing 1st downs: 162
TDs rushing: 1726
Passing Offense: 2781 yards or 213.9 yards per game
Passing 1st downs: 104
Passing Att-Comp-Int: 205-314-5
TDs Passing: 22
Total Offense: 5742 yards or 441.7 yards per game
Fumbles - Lost: 22 - 6
3d Down Conversions: 64 of 174 (37%)
4th Down Conversions: 123 of 29 (63%)
Field goal attempts: 20 - 24
PAT-Attempts: 46 of 46
Red Zone Scores: 46 of 52 (88%)
Red Zone Touchdowns: 33 of 52 (63%)
On-Side Kicks: 0 - 0
Penalties-Yards: 104 - 819