It's now 71 days until the kickoff of
Catamount
football on Saturday, September 5th, 2020 at 3 pm, against the
Eastern Kentucky Colonels
, in Roy Kid Stadium, Richmond, KY.
To help pass those long summer days, and hopefully get the
Catamount
faithful more excited about the upcoming season, and knowledgeable of the team members, we'll continue the football countdown each day until kickoff day.
There is no one currently assigned to #71 on the preseason roster, so we'll highlight assistant football coach Clyde Simmons.
Clyde Simmons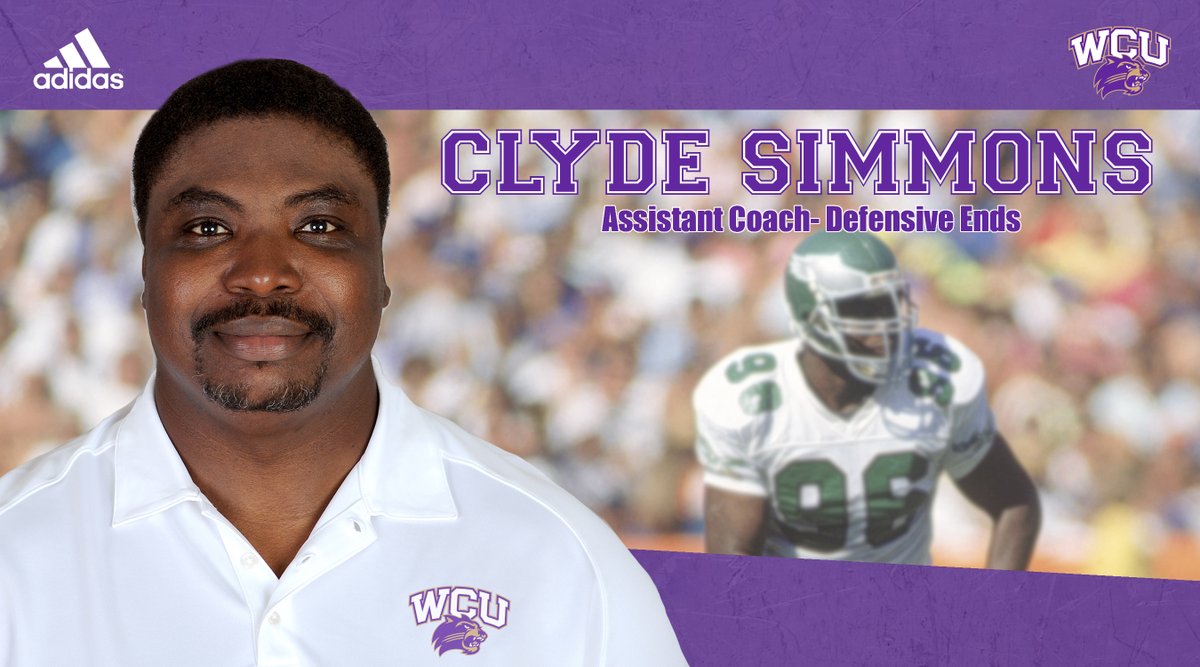 A name that is synonymous with the defensive history of
Western Carolina Catamount
football has come home.
Former Catamount defensive lineman and a 15-year veteran of the National Football League,
Clyde Simmons
has joined head coach Mark Speir's football staff where he will coach the defensive ends. He comes to WCU after spending the past season as the defensive line coach at Missouri Baptist University in St. Louis.
A 2002 Western Carolina Athletics Hall of Fame inductee, Simmons played for five different NFL teams following his tremendous collegiate career in Cullowhee. He was drafted in the ninth round (233rd overall pick) of the 1986 NFL draft by the Philadelphia Eagles, who likewise enshrined him in their hall of fame back in September 2018. Simmons also brings NFL coaching experience to the trenches at WCU.
"It is always great when you can bring back a former player to the coaching staff – but in Clyde Simmons, we are getting a Catamount Legend," said Speir. "We are so excited as a program to bring back a Catamount Hall of Famer and 15-year NFL great. Simmons had an incredible professional career in the NFL – but moreover, he is a great person who understands the rich history and traditions of Catamount Football. He will bring instant credibility with our players and future Catamount recruits. Clyde brings a lot of knowledge and experience not only as a player but having coached for both the St. Louis Rams and Cleveland Browns. We are so excited to say, 'Welcome Home!'"
After retiring from the professional football ranks in 2000, Simmons worked outside the game until 2008 when he began his coaching career at Greater Atlanta Christian School as the defensive line coach. In 2010, he accepted a position with Rex Ryan, for whom he played for in Arizona in 1994, as a defensive intern coach on the New York Jets staff. Two years later, he parlayed that position into an assistant defensive line coach job with the St. Louis / Los Angeles Rams in 2012.
With the Rams, Simmons helped develop top-end talent like pass-rush specialist, Robert Quinn, who set a franchise single-season record with 19 sacks in 2013. He also coached 2014 NFL Defensive Rookie of the Year and Pro Bowl selection Aaron Donald, who broke Quinn's mark in 2018 with 20.5 sacks – a franchise record and the most by a defensive tackle in NFL history.
After four seasons with the Rams franchise, Simmons landed the defensive line coach position with the Cleveland Browns in 2017, working along the shore of Lake Erie for two seasons. While along the North Coast, Simmons helped groom the top draft pick of the 2017 NFL Draft, Myles Garrett. During Simmons's tenure, the Browns' rushing defense vaulted from 31st in the league in 2016 to seventh a year later, limiting opponents to an average of just 3.35 yards per rush and the franchise's best finish in rush defense since 1992.
Born in Lane, S.C., and hailing from Wilmington where he is a 2008 inductee in the Greater Wilmington Sports Hall of Fame, Simmons played his high school football at New Hanover High before heading to the mountains of Western North Carolina. He was a leader along the Catamount defensive line from 1982-85 where he was a part of the magical 1983 season. He returned to WCU in 1996 to complete his bachelor's degree in industrial distribution.
With 307 career tackles along the defensive line at WCU, Simmons ended his collegiate career ranked ninth in program history, currently 12th on the tackles chart. He was additionally second in school history in tackles for loss – now third with 47 – and was third in sacks when he left Cullowhee, currently fourth in the record books with 23 sacks.
In 1985, Simmons was named first-team All-Southern Conference, as well as first-team All-America by both the Associated Press and on the Kodak / AFCA All-America squad. Simmons went on to play eight professional seasons with the franchise that drafted him in 1986, the Philadelphia Eagles (1986-1993), under two head coaches, Buddy Ryan and Rich Kotite, before heading west with Ryan for two years with the Arizona Cardinals (1994-95). It was in Phoenix that he played under defensive line coach Rex Ryan, who later gave him the coaching opportunity with the Jets. Simmons additionally spend two years playing with the Jacksonville Jaguars (1996-97) and Chicago Bears (1999-2000) with one year stint in between with the Cincinnati Bengals (1998).
Over his 15-year career, Simmons played in 236 games recording 121.5 career sacks, forcing 25 fumbles and making three interceptions, twice returning picks for touchdowns while adding a safety to his scoring ledger in 1988. A three-time NFL Player of the Week, he was twice selected to the Pro Bowl and named first-team All-Pro in both 1991 and 1992, leading the NFL in sacks in the latter.