Welcome to the twelfth annual
Catamount Football's "100 days to WCU Football Kickoff Countdown"
It's now 23 days until the kickoff of
Catamount
football on Saturday, September 3rd, 2022, against the
Charleston Southern Buccaneers
, on Buccaneer Field in Charleston, SC
To help pass those long summer days, and hopefully, get the
Catamount
faithful more excited about the upcoming season, and knowledgeable of the team members, we'll continue the football countdown each day until kickoff day.
It's now 23 days until the kickoff of Catamount football and
#23 belongs to Jerry Gaines, his number and jersey has been retired
.
Jerry w

as an Associated Press and American Football Coaches Association All-America selection in 1974 . Also earned All-America honors in baseball and track & field while at Western ... Set WCU records with 3,449 career receiving yards, a 20.6-yard per reception average for his career, and recorded 15 games with over 100 yards receiving ... Only the second Western Carolina football player to have his jersey retired ... Inducted into Western Carolina Athletic Hall of Fame in 1990, WCU's first-ever induction class.
#23 Jerry Gaines
Jerry Gaines is the only three-sport All-American in WCU athletic history. He was an NCAA Division II All America Selection in 1974 and helped the Catamounts to a 9-1 record and the national playoffs. He is one of two football players to have his jersey and number - 23 - retired and established over 40 football records as he caught 187 passes for 3,449 yards in four season. A track and field All-American in the long jump and triple jump in 1971 and 1972. His records still stood after the 1990 season. He batted .404 in 1975 and was named NCAA Division II All America and North Carolina College Athlete of the Year. He signed with the Texas Rangers in 1975.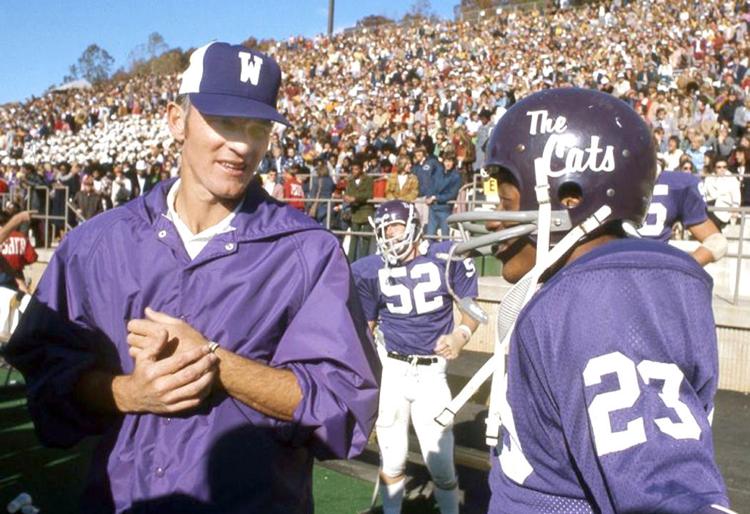 Western Carolina Coach Bob Waters, left, talks to All-American wide receiver Jerry Gaines, 23, during a home game in 1974.