For the 2022 season's second game, the Catamounts remain on the road and travel to Atlanta, GA to face the Georgia Tech Yellow Jackets for the sixth time overall.
The Yellow Jackets finished the 2021 season in sixth place in the Coastal Division of the Atlantic Coast Conference.
Game #2 - Georgia Tech Yellow Jackets

When
: Saturday, September 10, 2022
Time
: 7:00 pm
Where
:
Bobby Dodd Stadium
, Atlanta, GA
Radio
:
Catamount Sports Network
TV/video
: ACC NetworkExtra / ESPN+
Live Stats
: GT Live Stats
Conference: Atlantic Coast Conference
Message Board
:
GT Swarm

The Series
: The Yellow Jackets have won all five previous meetings between the two teams, all played at Bobby Dodd Stadium.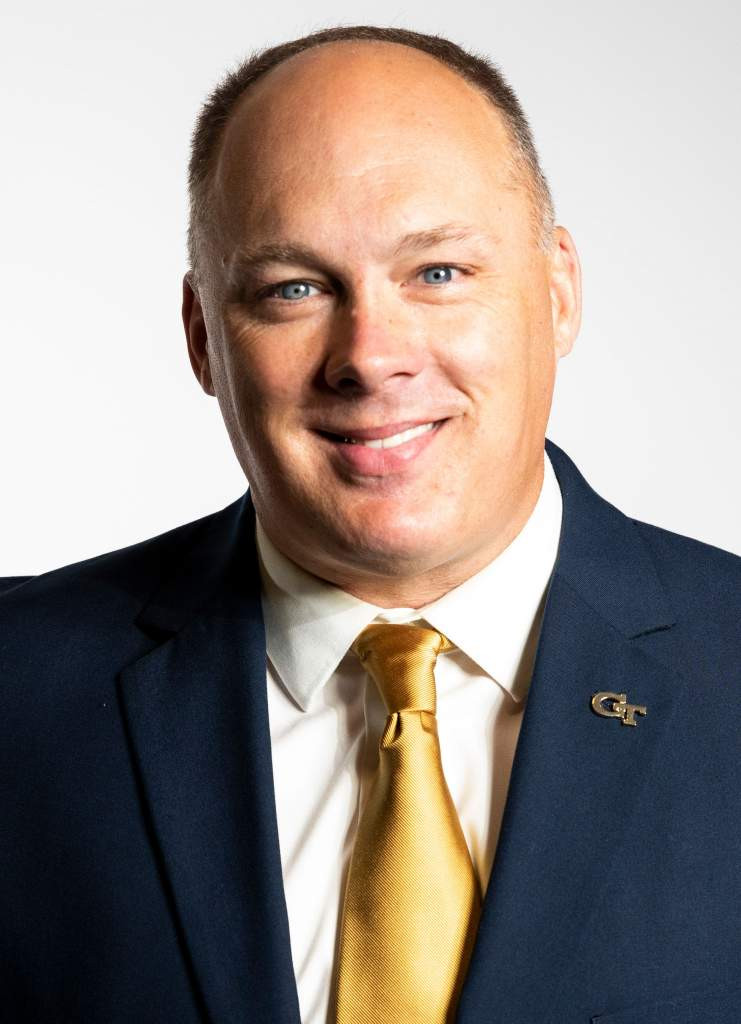 Head Coach

:

Geoff Collins

is in his fourth season at Georgia Tech. A metro-Atlanta native, Collins was named the 20th head coach in Georgia Tech football history on Dec. 7, 2018, after recording 15 wins in two seasons as head coach at Temple. Prior to becoming head coach at Temple, Collins was one of the nation's most respected defensive coordinators, serving in the role at Florida, Mississippi State, FIU, and his alma mater, Western Carolina. He is the only coach to ever be nominated for the Broyles Award, given to college football's top assistant coach, at three different schools.
Geoff Collins' Record at GT: 9-25 overall (3 seasons), and 24-35 overall
Geoff Collins' record vs. Western Carolina: 0-0
Kerwin Bell's record vs. Georgia tech: 0-0

Last Season's Record - (GT 2021): 3-9 overall, 2-5 home, 1-4 away, 2-6 Big South

GT OFFENSE: Spread Pro-Style
GT DEFENSE: 4-2-5
GT Offense - Returning/loss: 6 / 5
GT Defense- Returning/loss: 4 / 7
Collins enters his fourth year with an unhappy fan base and pressure to show progress on the field. T
he Yellow Jackets have almost as many personnel questions now as they did when Collins got the job (due to turnover in the coaching staff and players) and he is banking on the new assistants to make an immediate impact.
A total of 17 transfers joined Georgia Tech football this offseason, with the
group of incoming transfers ranked No. 4 in the Atlantic Conference and No. 20 nationally in
247Sports
'
2022 transfer rankings.
Clemson transfer Taisun Phommachanh and Akron transfer Zach Gibson are going to be pushing incumbent starter Jeff Sims for the starting position at quarterback. While most fans zero in on that situation, a very important competition will happen in the offensive line. Georgia Tech will most likely utilize the running game heavily this season, and that is going to make the competition on the offensive line much more important. The coaching staff attempted to upgrade the Yellow Jacket front four, with offensive line transfers, but they are young and somewhat inexperienced.
On defense,
the unit lost eight of its top 11 tacklers either to graduation or transfer and needs several players who gained experience last season to step up, particularly in the secondary and the pass-rushing positions.
Collins says there's been "marked improvement" from his young group of defensive backs. Corner Kenyatta Watson, seems particularly poised for a breakthrough after a strong spring.
"I just think that group as a whole has bonded at a really high level," Collins says.
2021 Georgia Tech (Fall -12 games)
Rushing Offense: 2422 yards
Yards per game: 169
Yards per rush: 3.44.6 yards
Rushing 1st downs: 102
TDs rushing: 15
Passing Offense: 2380 yards or 169 yards per game
Passing 1st downs: 104
Passing Att-Comp-Int: 342-205-10
TDs Passing: 18
Total Offense: 4408 yards or 367.3 yards per game
Fumbles-Lost: 16 - 5
3d Down Conversions: 58 of 164 (35%)
4th Down Conversions: 10 of 23 (43%)
Field goal attempts: 11 - 17
PAT-Attempts: 33 of 36
Red Zone Scores: 29 of 37
Red Zone Touchdowns: 18 of 37
On-Side Kicks: 3 - 3
Penalties-Yards: 73 - 614 - Avg. per gm 51.2
Punts-Yards: 62 - 2545 - Avg. per gm 41
Sacks: 20 for 131 yards