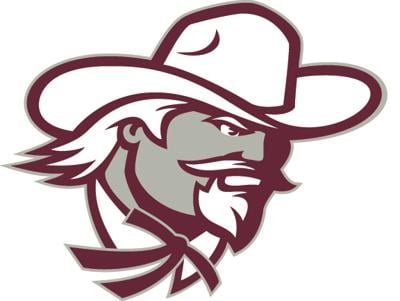 Throughout this preseason,
Purple & Gold
will preview all of
Western Carolina's
2021 football opponents.
In the
Catamounts'
opening game of the 2021 season, the
Colonels
of
Eastern Kentucky
will travel to
Cullowhee
for the opening game for both teams. In
Kerwin Bell's
debut as the WCU head coach, it's "
White Out Whitmire
" in the stadium.
Western faces the Colonels for just the seventh time overall. The two teams last played in Richmond, KY in 2020, with the Cats coming home with a 17-49 loss at the hands of the Colonels.
Game #1 - Eastern Kentucky Colonels
When: Saturday, September 4
Time: 6:00 pm EST
Where: EJ Whitmire Stadium, Cullowhee, NC
Radio: Catamount Sports Network
TV/video: Nexstar / ESPN+
-

WCBD (Charleston), WGHP (Greensboro/High Point), WJHL (Johnson City), WMYT (Charlotte), WWCW (Lynchburg/Roanoke), WYCW (Greenville/Spartanburg/Asheville), WBTW (Myrtle Beach)


Live Stats: WCU Live Stats
EKU Conference: ASun
Nickname: Colonels
Colors: Maroon and White
Enrollment: 14,980
Message Board: Maroon Nation

The Series
: In only the 7th meeting between the two teams, the Cats own a 2-4 record overall against the Colonels. Western is 1-1 against the Colonels in games played in Cullowhee.
Last Game vs. EKU
(November 21, 2020) -
Catamounts Fall to EKU 49-17 in Opportunity Bowl
-
Richmond, Ky
. – Western Carolina's defense forced four turnovers including a 54-yard scoop-and-score by Ricky Palao on a fumble recovery as the Catamounts rallied from an early deficit to lead 10-7 midway through the second quarter. However, Eastern Kentucky, which was playing its ninth game of the season, used big plays and a 28-point fourth quarter to pull away from WCU to win the inaugural Opportunity Bowl, 49-17.
Head Coach
:
Walt Wells
- 2d Season. Wells was hired as the 15th head coach in program history on Dec. 9, 2019. Wells most recently served as a quality control assistant at the University of Kentucky during the 2018 and 2019 seasons. The 2018 Wildcat team beat Florida for the first time in 32 years, posted the program's best Southeastern Conference (SEC) record in 41 years and beat No. 12-ranked Penn State in the VRBO Citrus Bowl. All totaled, the 10-3 record was Kentucky's best season in 41 years and only the third 10-win season in school history.
Wells record at EKU (Years) / Career : 3-6 (1 year) / same
Wells record vs. WCU: 1-0
Kerwin Bell's record vs. EKU: 0-0

Last Season's Record (2020 - EKU): 3-6 overall, 2-2 home, 1-4 away, 0-0 OVC
EKU Offensive Formation: Multiple Spread
EKU Defensive Formation: 4-3


Offensive starters - Returning/Lost
: 6 / 5
-Lost: Keyion Dixon (WR, 37 rec, 607 yrds, 6 TD), Jordan Johnson (LG), Jackson Bardall (RG), Jackson Beerman (WR, 27 rec, 482 yrds, 1 TD), Alonzo Booth (RB, 152 att, 708 yrds, 7 TDs)


Defensive starters - Returning/Lost: 9 / 2
-Lost - Elijah Taylor (DE, 25 tckls, 2.5 TFL, 1.0 scks), Alante Leapheart (CB, 30 tckls, 2.0 TFL, 1.0 sck, 2 INT)


The Colonels finished the 2020 season at 3-6, but were two plays away from going 5-4. On Oct. 3 against Houston Baptist, EKU scored a touchdown to pull within one with 4:04 left in the game. The game-tying extra-point was blocked and returned for two points in a 33-30 loss. On Oct. 17 at FBS Troy, Eastern took a 29-28 lead with 21 seconds left in the game. The Trojans drove 30 yards in three plays and made a game-winning 47-yard field goal as time expired.
EKU joined the ASun conference on July 1 and will play in the

ASUN-WAC Challenge (AQ7). Since neither of the two conferences has enough eligible members for an auto bid, t

he ASUN and WAC agreed on a one-year football scheduling alliance for the 2021 fall football season. The
Colonels were selected as #5 in the first AQ7 poll.
Wide receiver Jacquez Jones,
OL Payton Collins,
DL Quinten Floyd,
LB Matthew Jackson,
DB Joseph Sayles were selected as preseason all-conference.
Six Eastern Kentucky University football student-athletes were voted to the 2021 ASUN Preseason All-Conference Team, the league announced on Tuesday.

The six Colonels named Preseason All-ASUN were

Jacquez Jones

(wide receiver),

Payton Collins

(offensive line),

Jyran Mitchell

(all-purpose),

Quinten Floyd

(defensive line),

Matthew Jackson

(linebacker) and

Joseph Sayles

(defensive back).

EKU was picked to finish fifth in the Preseason ASUN/WAC AQ7 Coaches Poll. Defending national champion Sam Houston State is the preseason favorite after taking all seven first-place votes in the poll.
The Colonels added nine transfers for the 2021 season that will provide needed depth on the offensive side of the ball. The transfers include a transfer from WKU and a player who went to Auburn and another who attended Purdue.
-Cord Sandberg – QB, 6-3/222, So., Bradenton, Fla. (Auburn Univ.)
-Brad Davis – OL, 6-4/303, Sr., Victoria, Va. (Virginia Military Institute)
-Zack Ferris – OL, 6-5/311, R-So., Somerset, Ky. (Marshall Univ.)
-Da'Joun Hewitt – RB, 5-10/205, R-Fr., Nashville, Tenn. (Purdue Univ.)
-Jyran Mitchell – WR, 5-11/195, R-So., Matteson, Ill. (Northern Illinois Univ.)
-Patrick Nations – K, 6-0/182, R-Fr., Tamasse, S.C. (East Carolina Univ.)
-Ubong Udom – OLB, 6-3/265, R-Sr., St. Joseph, Mo. (Univ. of Central Missouri)
-Roland Walder – DE, 6-3/250, R-Sr., Dayton, Ohio (Bowling Green State Univ.)
-Kyle Bailey – ILB, 6-0/215, Sr., Carrollton, Ga. (Western Kentucky Univ.)
2019 Eastern Kentucky Statistics (9 games)
:
Rushing Offense: 1161 yards
Yards per game: 129
Yards per rush: 3.7 yards
Rushing 1st downs: 56
TDs rushing: 9
Passing Offense: 2227 yards or 247.4 yards per game
Avg. per pass: 8 yards
Passing 1st downs: 94
Passing Comp-Att-Int: 167-277-9
TDs Passing: 17
Total Offense: 3388 yards or 382.2 yards per game
Fumbles-Lost: 10-6
3d Down Conversions: 35%
4th Down Conversions: 57%
Field goal attempts: 11 - 14
On-side kicks: 0-0
Red Zone Scores: 26-31 (84%)
Red Zone Touchdowns: 15-31 (88%)