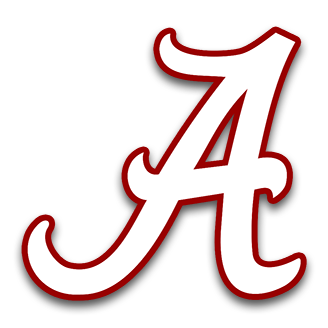 Here's the final team preseason preview of the 2019 season. Throughout this preseason,
Purple & Gold
has now previewed all of
Western's
2019 football opponents.
For the twelfth game of the season, the Cats end the regular season with an out-of-conference FBS opponent, and it just happens to be the #2 nationally ranked Alabama Crimson Tide.
The Cats will travel to Tuscaloosa, Alabama to meet the Crimson Tide for the 5th time overall. The Cats last played in Bryant-Denny Stadium on Nov. 23, 2014, in front of 101,325 fans against the then nationally ranked #1 team, Alabama.
Game #12 - Alabama Crimson Tide
When
: Saturday, November 23 - Time: TBA
Where
:
Bryant-Denny Stadium
(101,821), Tuscaloosa, Alabama
Radio
: Catamount Sports Network
TV/video
: TBA
Conference
: Southeastern Conference (SEC)
Students: 38,563
National Ranking: Ranked #2, behind Clemson
The Series
: The Cats first played at Alabama in 2004 and hold a 0-4 overall record against the Crimson Tide.
Last game played vs. Alabama
: Nov. 21, 2014 - Last game played vs. Alabama: Nov. 21, 2014 -
Troy Mitchell Sets Total Yards Record in 48-14 Loss at No. 1 Alabama
-
Tuscaloosa, Ala
. - Junior quarterback Troy Mitchell set a Western Carolina school record for total yards in a single season, finishing with 204 combined yards on Saturday afternoon to eclipse the 3,000-yard plateau as the Catamounts closed the regular season with a 48-14 road loss at No. 1 Alabama. Mitchell, who finished the year with 3,096 total yards, delivered two first-half touchdown passes to redshirt sophomore Spearman Robinson as the Catamounts from the Football Championship Subdivision (FCS) played the top-ranked Crimson Tide close midway through the second quarter. Robinson's second TD reception pulled WCU to within three points at 17-14, but the Crimson Tide scored 31-unanswered points to pull away for a Homecoming victory in front of 101,325 at Bryant-Denny Stadium. Alabama running back Derrick Henry rushed for 92 yards and two touchdowns on the ground while adding a third score on a nine-yard, second-quarter reception for Alabama. Quarterback Blake Sims tossed a pair of scoring strikes among his 17 completions for 222 yards to pace the Crimson Tide (10-1). Receiver Chris Black led 11 different Alabama receivers with six catches for 101 yards.
Games that will be played by the Crimson Tide this season before the WCU contes
t: Alabama kicks off the 2019 season in Atlanta against the Duke Blue Devils, then return home to host New Mexico State. The Tide then hits the road to Columbus, SC to play South Carolina before returning home for a two-game stretch. Southern MIss is the first to visit Tuscaloosa, followed by Ole Miss on Sep. 28 for game #5. Alabama then travels to Texas A&M, then returns home for three additional games. Tennessee first, followed by Arkansas, then LSU visits Bryant-Denny Stadium. Next Alabama travels to Mississippi State, before hosting Western.
Head Coach
:
Nick Saban -
A man of vision who has a proven record of championship success, head coach Nick Saban has returned the University of Alabama to the top of the college football landscape with his commitment to building the total program. After the victory over Georgia in the 2018 College Football Playoff National Championship Game, Saban joined Paul "Bear" Bryant as the only two coaches to win six national titles in the poll era of college football. Entering his 13th season in Tuscaloosa, Saban's uncompromising dedication to excellence in every phase of the program has resulted in five national championships since 2009. An eight-time National Coach of the Year, Saban has achieved resounding success as a head coach and has earned a reputation as an outstanding tactician, leader, organizer, and motivator. Those qualities have sparked impressive turnarounds at every stop of his career. Saban's consistent approach and disciplined leadership are the reasons his teams are known for exhibiting grit, determination, and resilience, often overcoming adversity to achieve victory.
Last Season's Record - 2018 (Alabama)
: 14-1 overall, 7-0 home, 4-0 away, 3-1 neutral, 8-0 SEC - In 2018, Alabama won the SEC Championship beating Georgia, then won then beat Oklahoma in the Orange Bowl, before losing to Clemson in the College Football Playoff National Championship.
Offensive Formation
: Pro Style/Multiple
-2018 Offense: 45.6 ppg. (3rd in FBS)
Defensive Formation
: 3-4
-2018 Defense: 18.1 ppg. (12th in FBS)
Returning Lettermen/Lost: 43 / 13
Offensive starters - Returning/Lost
: 7 / 4
Defensive starters - Returning/Lost
: 7 / 4
Special Teams - Returning/Lost
: 3 / 0
The Crimson Tide returns 17 starters and 43 lettermen for the 2019 season. The AP, STATS, and Coaches polls have all ranked Alabama at #2 in their top 25 preseason polls, right behind the defending 2018 National Champs, Clemson.
Alabama was selected as the favorite to win the 2019 SEC Championship, and the Crimson Tide landed a league-high 19 players on the All-SEC Teams. The 12 first-teamers include six players on offense, four on defense and one specialist. The Crimson Tide's 12 first-team selections include six on offense in juniors Tua Tagovailoa (quarterback), Najee Harris (running back), Jerry Jeudy and Henry Ruggs III (wide receiver), and Alex Leatherwood and Jedrick Wills Jr. (offensive line). The four on defense are made up of seniors Raekwon Davis (defensive line) and Trevon Diggs (defensive back) along with redshirt senior Anfernee Jennings and junior Dylan Moses (linebacker). Sophomore Jaylen Waddle rounds out the first-team selections, landing two spots on the specialist list as an all-purpose player and as a return specialist. Waddle makes another appearance on the second team (wide receiver), in addition to sophomore Patrick Surtain II and junior Xavier McKinney (defensive back). Spotting the third team for the Crimson Tide is junior LaBryan Ray (defensive line), senior Shyheim Carter (defensive back), redshirt senior Matt Womack (offensive line), and redshirt juniors Terrell Lewis (linebacker), Miller Forristall (tight end) and Deonte Brown (offensive line).
Alabama finished the year with the nation's most efficient passing game and averaged 522 total yards and 46 points per outing. Quarterback Tua Tagovailoa has to stay healthy. Banged up last season with knee and ankle issues, he was knocked out of the SEC Championship against Georgia last season.
2018 Alabama Statistics
Rushing Offense
: 2976 yards
Yards per game
: 198,4
Yards per rush
: 5.2 yards
Rushing 1st downs
: 155
TDs rushing
: 33
Passing Offense
: 4854 yards or 392.7 yards per game
Passing 1st downs
: 195
Passing Comp-Att-Int
: 301-438-8
TDs Passing: 52
Total Offense
: 7830 yards or 515.9 yards per game
Fumbles-Lost
: 16 - 7
3d Down Conversions
: 70 of 150
4th Down Conversions
: 14 of 25
Field goal attempts
: 15 - 20
PAT-Attempts
: 83 of 92
Red Zone Scores
: 65 of 79 - 90%
Red Zone Touchdowns
: 54 of 79 - 68%
On-Side Kicks
: 0 - 0
Penalties-Yards
: 87 - 796 - Avg. per gm 53.1
Punts-Yards
: 42 - 1502 - Avg. punt: 35.8
Sacks
: 45
Game prediction:
Per the Massey Ratings, the Cats have a 0% probability of winning (3-59) against the Crimson Tide. According to Massey, the Cats should be 3-9 after this game. While this will be a difficult game for Western to win, with a loss in Tuscaloosa, the Cats will end the regular season with a 9-3 overall record, and head to the playoff for the first time since 1983.
--------------------------------------
Join the conversation and leave a comment below