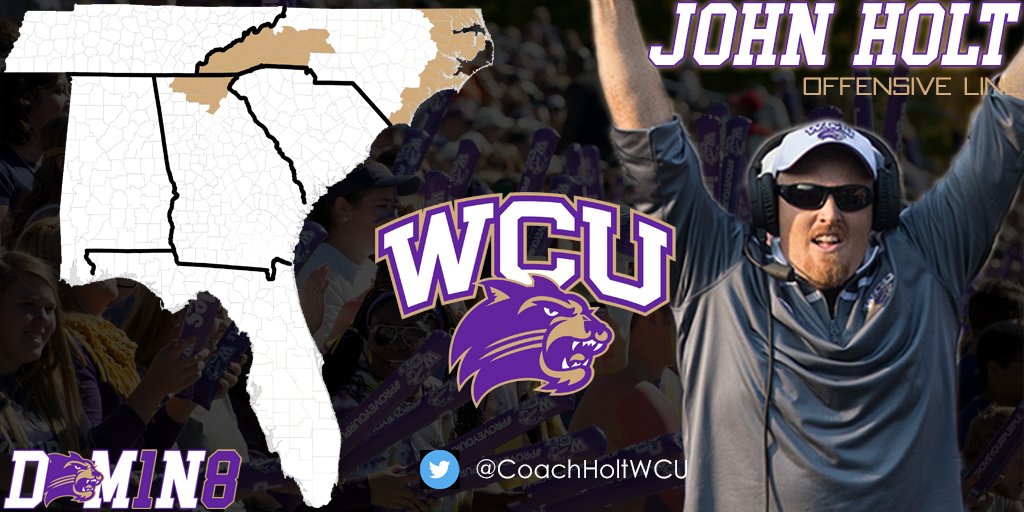 It's now 93 days until the kickoff of
Catamount
football on September 2, 2017, in Aloha Stadium, Honolulu, Hawaii - home of
the
University of Hawaii Rainbow Warriors
.
To help pass those long summer days until football season starts, and hopefully get the
Catamount
faithful more excited about the upcoming season, we'll continue the 100-day football countdown each day until kickoff.
#93 is currently not assigned, so we'll highlight another assistant coach.
John Holt
Hometown
: Leicester, N.C.
Position
: Assistant Coach / Run Game Coordinator / Offensive Line
Alma Mater
: Appalachian State
Graduated
: 2008
John Holt joined Mark Speir's coaching staff at Western Carolina in January of 2012. He serves as the program's offensive line coach, coming to Cullowhee from his alma mater, Appalachian State, where he worked the four previous seasons. Holt also oversees WCU's camps and clinics, and in the summer of 2015, additionally assumed the role of player personnel. In his time at WCU, Holt has mentored All-Southern Conference selections along the offensive line in tackle Josh Wineberg (2014) and center Jake Thornton (2014).
Prior to coming to Cullowhee, Holt spent three of his four years on staff at ASU working with the Mountaineer tight ends including coaching four-time All-SoCon selection Ben Jorden during three of his four all-conference seasons.
In 2008, Holt began his coaching career by serving on head coach Jerry Moore's staff in an offensive quality control capacity. His duties included assisting the offensive staff with day-to-day non-coaching duties, specifically offensive line coach Shawn Elliott. Thanks in large part to Holt's efforts, ASU's offense ranked among the nation's top 10 in scoring, rushing, pass efficiency and total offense in '08.
A native of near-by Leicester, N.C., Holt played in 55 of ASU's 56 games during his four-year career (2004-07) including all 15 games as a senior in 2007, serving as a team captain while also earning third team All-America honors from The Sports Network. A versatile offensive lineman, he saw significant playing time at right guard and both tackle positions during his collegiate career.
The son of Michael Joe and Susah Holt, John graduated from ASU in 2008. His brother, Sherman, followed him to Boone, playing for the Mountaineers from 2007-11.
Holt was married to the former Ms. Krystle Thomas during the spring of 2015.
Courtesy WCU Athletics Media Relations
--------------------------------------
Join the conversation and leave a comment below