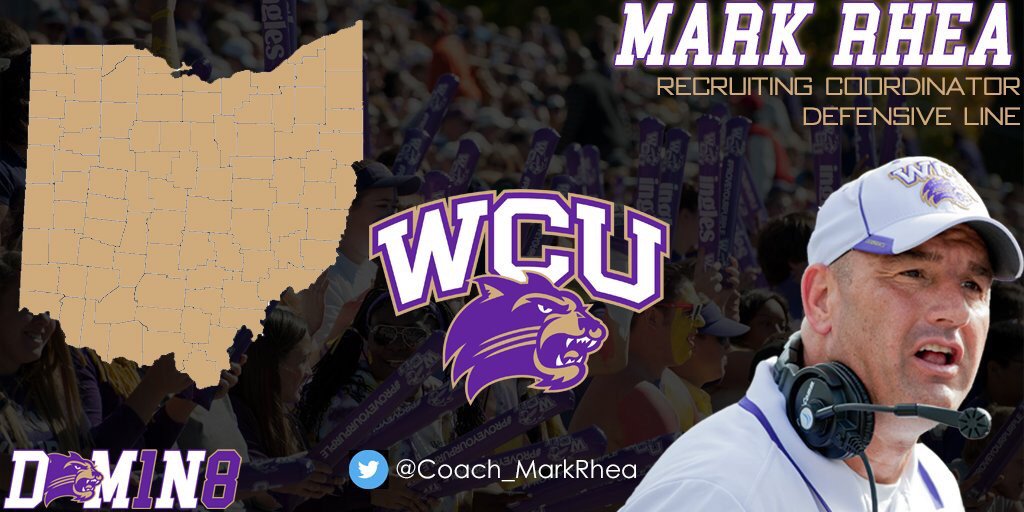 It's now 95 days until the kickoff of
Catamount
football on September 2, 2017, in Aloha Stadium, Honolulu, Hawaii - home of the
University of Hawaii Rainbow Warriors
.
To help pass those long summer days until football season starts, and hopefully get the
Catamount
faithful more excited about the upcoming season, we'll continue the 100-day football countdown each day until kickoff.
#95 is currently not assigned, so we'll highlight another
Catamount
assistant coach.
Mark Rhea
Hometown
: Beavercreek, Ohio
Position
: Assistant Head Coach / Recruiting Coordinator / Defensive Line
Alma Mater
: Univ. of Toledo
Graduated
: 1992
Mark Rhea came to Western Carolina in mid-March, 2010 as the defensive line coach and was promoted to the program's recruiting coordinator during the spring of 2011. Under head coach Mark Speir, Rhea continues to hold the top recruiting position. After two seasons of specializing in coaching the defensive ends, Rhea resumed coaching the entire defensive line as a unit during 2016 spring drills.
Remaining on board from the previous WCU coaching staff, Rhea was elevated to Assistant Head Coach in late October of 2011, and then on Nov. 13, 2011, was named Interim Head Coach and led the Catamounts against Coastal Carolina on Nov. 19, 2011. During the summer of 2015, Rhea was again promoted to the Assistant Head Coach level by Speir.
Under the watchful eye of Rhea, WCU's defensive ends continue to develop along the defensive line. In 2014, Caleb Hawkins garnered second team All-Southern Conference accolades from the voting media, leading all of WCU's defensive linemen with 54 tackles including 27 solo stops and 11.0 TFL.
Rhea, who played and coached at the University of Toledo, joined the Catamount coaching staff from Division II-member, Tiffin University.
A four-year starter at the Univ. of Toledo from 1988-91, Rhea got his start on the Rockets' staff serving as an administrative assistant and graduate assistant from 1992-94. He has served as a defensive line coach at four different institutions and most recently was the defensive coordinator last season at Tiffin University in Ohio.
Rhea coached for six seasons at Idaho State before returning to his alma mater. During his tenure at Idaho State, he coached a defensive line that had all four linemen earn All-Big Sky honors four years in a row and earned a combined 22 all-conference honors, including eight First Team All-Big Sky picks and seven Academic All-Big Sky selections.
Prior to his stint at Idaho State, Rhea was on the staff at Austin Peay and before that he coached at the United State Coast Guard Academy in Connecticut.
In his career, Rhea has mentored three players who have gone on to the professional ranks. In 2006, he coached J.P. Bekasiak, who later became a first-round pick of the Hamilton Tiger-Cats of the Canadian Football League. Rhea also coached two players at Idaho State who went on to the NFL in Jared Allen with the Minnesota Vikings and Jeff Charleston who played for the Super Bowl Champion New Orleans Saints last season.
Allen, a two-time All-American and winner of the Buck Buchanan Award as the I-AA Defensive Player of the Year in 2003, was drafted in the fourth round by the NFL's Kansas City Chiefs in 2004. Charleston had 19 tackles for loss and was the Defensive Newcomer of the Year in the Big Sky in 2005. He signed as a free agent out of college with Houston in 2006.
After earning his bachelor's degree in athletic administration from Toledo in 1992, Rhea assisted the Rockets' coaching staff before working two seasons as a graduate assistant at Michigan State. The Beavercreek, Ohio, native had a standout playing career at Toledo that saw him named the team's outstanding defensive lineman as a senior and play a pivotal role on the Rockets' 1990 Mid-America Conference (MAC) co-championship team.
Rhea and his wife Stacey have a daughter, Madeline.
--------------------------------------
Join the conversation and leave a comment below