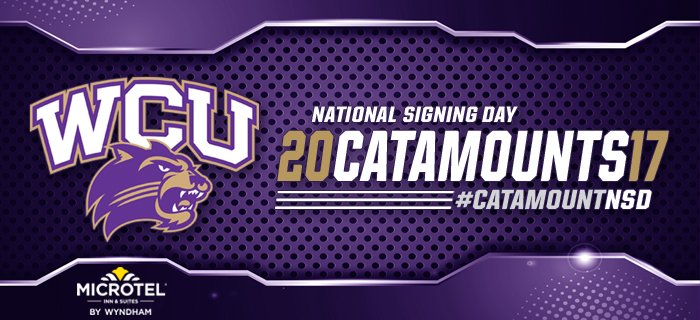 "I want to first congratulate our coaching staff for their outstanding efforts and their relentless pursuit of what I consider to be the best recruiting class in my six years in Cullowhee," Head Coach Mark Speir said about the 2017 National Signing Day.
"This staff has not only assembled a great group of football players, but we've acquired a great group of families and student-athletes for Western Carolina University. This group has excelled in high school not only as athletes, but also as students. I can't wait to have the opportunity to coach this group for the next four years."
"The recruiting process is a culmination of the work of a lot of professors, athletic department members, and support staff across our campus. On behalf of our entire coaching staff, we'd like to say `thank you' to the entire Catamount campus for helping us compile this '365tough' recruiting class for 2017" Speir added.
"We really addressed the needs of our defensive front seven, as well as in the trenches along our offensive line with this class. We are very excited about adding a pair of proven winners at the quarterback position which will make the quarterback competition more competitive than ever. I feel like the future of Catamount football is in great hands."
As per NCAA rules and regulations, WCU's National Signing Day list only includes those student-athletes who have signed an official National Letter of Intent (NLI).
Interview with Coach Spier
on the 2017 class.
--------------------------------------
Join the conversation and leave a comment below