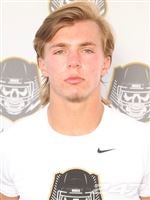 Trevor Childers
Position:
Linebacker
Hometown: Denver, NC
High School: East Lincoln HS
Height: 6'0"
Weight: 181 lbs
Class: 2017
Hudl highlights
Last season, Childers led the Mustangs in total tackles with 123, including 26 for a loss. He added three sacks, five interceptions and two caused fumbles. On the offensive side of the ball, Childers caught 15 passes for 183 yards and three touchdowns in the 2015 season. The rising senior is also a baseball player. This spring, he hit .292 with 26 runs scored, 22 RBIs and six extra-base hits.
Join the conversation and leave a comment below